ANGELINA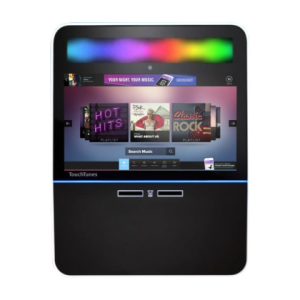 The Angelina defines a new standard for design, performance, serviceability and value, and creates a striking focal point for any venue.
Sophisticated algorithms and state-of-the art lighting effects transform the jukebox experience and bring new textures to the rhythms and beats.
Innovative no-wire, component-to-component design with snap-in part replacement, minimizes service times, reduces inventory needs and increases reliability and performance.
[su_vimeo url="https://vimeo.com/257906457″]
---
PLAYDIUM
The next generation entertainment platform, Playdium delivers a tailored music experience that reflects the unique musical taste of each venue.
Playdium is a breakthrough platform that allows venues to select from a variety of Music Profiles to tailor the experience to their unique vibe.
A 23-inch touchscreen, subtle lighting, and angled reflective surfaces create the perfect entertainment centerpiece for any venue.
Two-piece modular design and online diagnostics increase reliability and make servicing fast and simple. If there's ever a problem, operators just swap in a replacement unit and send the original one back to TouchTunes for repair.
[su_vimeo url="https://vimeo.com/89145885″]
---
 VIRTUO
Virtuo is a showpiece of form and function that supports multiple entertainment services including the TouchTunes mobile app, PhotoBooth and Karaoke.
26-inch widescreen format, intuitive user interface, and a huge selection of songs make it fun and easy to find the music you love.
Virtuo's sleek design and customizable rim and wall lighting helps to set the mood in any venue.  Plus, an LED screen with 'Now Playing' messaging and a dynamic equalizer display commands attention.
---
MX-1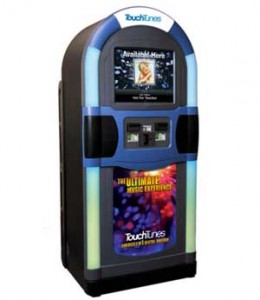 The MX-1 Jukebox from TouchTunes offers an extensive music catalog and playlists that feature all the latest hits. The latest software makes searching and playing songs easier than ever, and the MX-1 supports the TouchTunes mobile app. Users can create and access their playlists on both the jukebox and the mobile app, and the MX-1 offers proven, reliable performance that keeps customers engaged all night long.
---
OVATION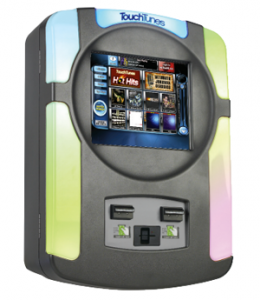 The TouchTunes Ovation II is small in size with big features. High Intensity Tri-Color LED's mounted behind translucent lexan panels allow the Ovation II to show a rainbow of colors. The new sound system includes a TouchTunes 415 digital amplifier. Powered by the TouchTunes broadband network, patrons are able to play selections from a massive album-based music library and earns more revenue. Ecast features include Single Song Download from a library, "Make Mine First" selection option, music from all five major labels and important independent labels, unsigned artist program, and interactive video music promotions.